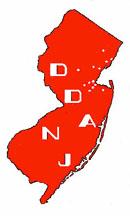 BOARD OF TRUSTEES: President
Janet Forella
Founding Executive Secretary
1st Vice President
Cheryl Ann Martin & Theresa Edwards
2nd Vice President
Patricia Fevelo-Avon & Vincent Seavers (Recreation)
Recording Secretary & Treasurer
Nicholas Russo
Assistant Treasurer & Recording Secretary
Scott Chaffer MSW
Stephen Rohrbacher
Corresponding
Secretary
Charles Miles
In Memoriam
Frances M. Ryan
Founding Board Member
Ramon H. Husley
Founding Board Member
V. Carol Edwards
Founding Board Member
Warren Edwards
Emeritus
Lawrence Sharrott
Founding Board Member
Executive Director
James V. Casale,
Founding Board Member
Director of Adult
Program Services
Abbie Bartner
Residential Service
Supervisors
Keith Marone
Chauna Taylor
Marilyn Mendoza
COMMUNITY RESIDENTIAL
FACILITIES
Bergen County
North Arlington
Lyndhurst
Hudson County
Harrison
Kearny
Essex County
West Orange
Somerset County
Franklin Township
Somerset
Union County

Hillside
Roselle
Linden
Ocean County
TBD
Middlesex County
East Brunswick
North Brunswick
Old Bridge
Monmouth County
Middletown
ADULT VOCATIONAL
PROGRAMS:
Bergen & Hudson Counties Ridgefield Park & North Bergen Vocational Programs:
Adult Activities Programs
Mobile Crew, Work Oriented &
Supported Employment
Union County
Springfield & Plainfield Vocational Programs
Adult Activities Programs
Mobile Crew, Work Oriented &
Supported Employment
AFFILIATED WITH:
Commercial Star Services, Inc. New Jersey &
Developmental Disabilities Association of Florida, Inc.
DEVELOPMENTAL DISABILITIES
ASSOCIATION OF NEW JERSEY INC.
Providing an opportunity for personal growth and development.
For Assisted Recreation and Vacation Travel Services, Click Here
About D.D.A.N.J. and Our Programs

Developmental Disabilities Association of New Jersey Inc. (D.D.A.N.J.), a not-for-profit 501(C)3 corporation chartered in the State of New Jersey, was founded in 1979 in response to the growing need for community residential and vocational services for people with a developmental disability as an alternative to institutional living.
D.D.A.N.J. was founded on the principle of providing an opportunity for personal growth and development and maintains that developmentally disabled individuals are best able to achieve their potential as functioning members of society by residing and working in an environment providing maximum social contact and interaction. D.D.A.N.J. is committed to providing opportunities in settings offering and advocating conditions appropriate for everyday life to all individuals.
D.D.A.N.J. advocates the provision of supportive services which enhance self-sufficiency and individual growth. D.D.A.N.J. upholds the belief that the limitations of all individuals with a developmental disability can be modified regardless of their degree of impairment.
All D.D.A.N.J. programs are staffed with experienced, competent and caring individuals whose knowledge, sensitivity, and understanding promote, encourage and provide an enhanced quality of life. The strength of our programs are in our employees!
Programs Provided By D.D.A.N.J.
Currently, D.D.A.N.J. operates 14 Community Residential Facilities (Group Homes), 2 Adult Training Centers, 2 Supported Employment Mobile Crew Programs, 2 Supported Employment Programs and ARVTS, our Assisted Recreation and Vacation Travel Service. Our programs are currently located in Bergen, Hudson, Essex, Union, Somerset, Middlesex, Monmouth, and Ocean Counties.
Community Residential Services: Provide a safe and supportive home environment that offers the common and regular conditions of everyday life to each individual, along with both structured and unstructured opportunities to develop skills. Our live-in Residential Managers average over 20 years of service to D.D.A.N.J. and our group home programs.
Adult Training Services: Provide vocational training and habilitation opportunities for developmentally disabled individuals who are in need of close, structured supervision. The programs offered by Adult Training Services are individualized and encourage the acquisition, improvement, and maintenance of basic vocational training and skills.
Supported Employment Mobile Crew: Serves individuals who were successful in the Adult Training Program and whose vocational skills have developed so that they are able to work successfully with 5 or 6 other individuals in a community work setting.
Supported Employment: Serves individuals who have been successful in our Mobile Crew Program and who have gained the ability to succeed in a community work-oriented environment with minimal supervision. This program employs individuals who have expressed the desire to work independently toward a higher level of competitive employment for competitive wages
Recreational Programs: Along with a wide variety of daily, weekly, and monthly recreational programs, vacations have included trips to Disney World, Universal Studios, Sea World, The Kennedy Space Center, Las Vegas, The Grand Canyon, the Bahamas, Bermuda, Jamaica, Caribbean Islands & Cruises, Alaska, Canada, Virginia Beach, Williamsburg Virginia, and camping trips and vacations to Cape May & the Jersey shore along with numerous other recreation and vacation destinations. These programs enhance leisure and recreation skills and fulfill D.D.A.N.J.'s desire to encourage recreational fun and Vacation memories for all.
Referral Services: Provides referrals to individuals who need assistance that D.D.A.N.J. is not staffed or equipped to provide. D.D.A.N.J. maintains positive working relationships with a network of community professionals to meet the extenuating needs of our clientele.
Advocacy: D.D.A.N.J maintains that the protection of human, civil, and legal rights is a vital means toward the continued promotion of equal life opportunities for all individuals with a developmental disability.
Assisted Recreation and Vacation Travel Services
At D.D.A.N.J., we sponsor a wide variety of recreation and vacation travel programs throughout the year. Along with our daily, weekly and monthly recreational programs, our Assisted Recreation & Vacation Travel Services (ARVTS) Program provides assisted recreation and travel to such destinations as: Disney World, Universal Studios, Sea World, Cyprus Gardens, Busch Gardens and the Kennedy Space Center in Florida, Las Vegas, the gambling capital of the world and the Grand Canyon, the New Orleans Halloween & Jazz Festivals, Mystic Connecticut and the Foxwood & Mohegan Sun Casinos, Hershey Park, Washington D.C., the Baltimore Harbor Tours, Nashville, Tennessee, Paradise Island in the Bahamas, Quebec and Montreal in Canada, Colonial Williamsburg, and Virginia Beach, Virginia and Myrtle Beach, South Carolina. In addition, we offer cruises to various destinations in the Caribbean, Mexico and Bermuda. Local recreation packages have included overnight camping and hiking, and visits to Cape May on the Jersey shore, along with numerous packages to our Civic Centers and local and Broadway Theaters. This program enhances the quality of life through the development of leisure and recreation skills to help fulfill the desire of D.D.A.N.J. to make assisted recreation and vacation travel beneficial for all.
We are pleased to have expanded our Assisted Recreation and Vacation Travel Program and welcome senior citizens and all others who would enjoy assisted travel and would benefit by participating in our program. Please contact our administrative office for a travel brochure (732-636-6710) or click here for additional information.
We welcome you to join D.D.A.N.J. in our effort to provide the developmentally disabled population with an enhanced spectrum of service. All contributions are tax deductible. Please call 732-636-6710 for information. For Employment opportunity, Please call or send Resume to :
Contact Us:
DDANJ
40 Woodbridge Ave.
Sewaren, New Jersey 07077
E-mail : ddanj@aol.com
Telephone : 732-636-6710
Fax : 732-636-5936
All donations are tax-deductible 501(c)(3)
Assisted Recreation and Vacation Travel Services
offers all-inclusive assisted travel services to persons with disabilities & or to persons needing Travel Assistance.
Email ddanj@aol.com or call 732-636-6711 to request further information from Chauna or Marilyn
Reviewed or Revised on March 11, 2023